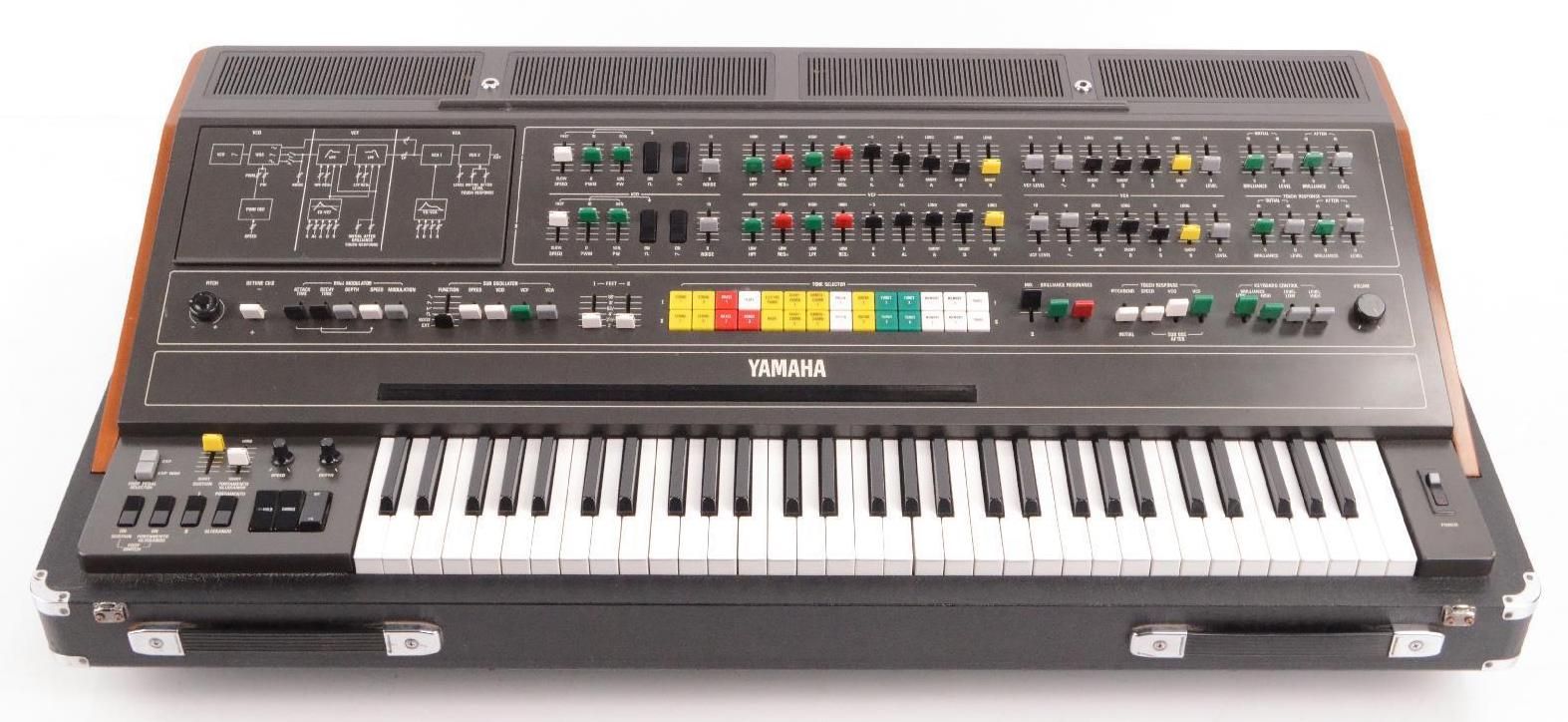 A true analog heavyweight! Way ahead of the pack, Yamaha's CS-80 had features like a 61-note, weighted action keyboard with velocity sensitivity and polyphonic aftertouch; built-in Chorus and Tremolo; polyphonic Portamento/Glissando and a Ring Modulation section - impressive even by today's standards. Hidden under a little door on top of the machine are 4 miniature replicas of a single CS-80 channel. 4 Memory buttons allow you to access these presets. The front panel also featured 22 hard-wired presets and 2 panel access buttons (Channel I or II). Another notable addition was a 22" ribbon controller for pitch bending. The CS-80 is basically two independent, 8-voice analog synths housed in a sturdy, 220 pound package. I believe this dual-channel design is one of the key reasons for the CS-80's incredible sound. In a magazine interview, Eddie Jobson of UK pointed out that the beautiful string intro on "
Thirty Years
" would have required extensive overdubbing if not for the expressive control of the CS-80.
The fact is, the CS-80 is one of the fattest sounding analog synths I've ever had the pleasure of playing!

Some folks have asked me why I used the DX-5 instead of the DX-7. The DX-5 has all the FM character of the DX-7, but since it offers two separate FM synth engines, you can fatten your sound by layering two patches. When the 76-note, DX-5 is in Single Mode, you're playing one synth engine with 32-note polyphony. When the DX-5 is in Dual Mode you're playing two individual FM synths each with 16-note polyphony. You can assign a different sound to each channel (A or B) and then detune the sounds for a thick combination patch. The A and B channels can also be assigned to separate MIDI channels making the DX-5 a bi-timbral synth.

One of my earliest experiences with multi-timbral gear. The Yamaha TX816™ consists of eight TF1 modules loaded into a 4-space, 19" rack with a master power supply. Think of it as eight DX-7s in a rack!. Yamaha also offered a TX216 that consisted of two TF1 modules in case you wanted to work your way up to an 8 module rack (the TX816 was pricey). Each TF1 module is a 16-voice, 6-operator FM synth with its own MIDI and XLR connections located at the back. You also have a global MIDI i/o on the front of the unit. Imagine combining up to 8 FM sounds to build one complex patch - this was huge back in the day!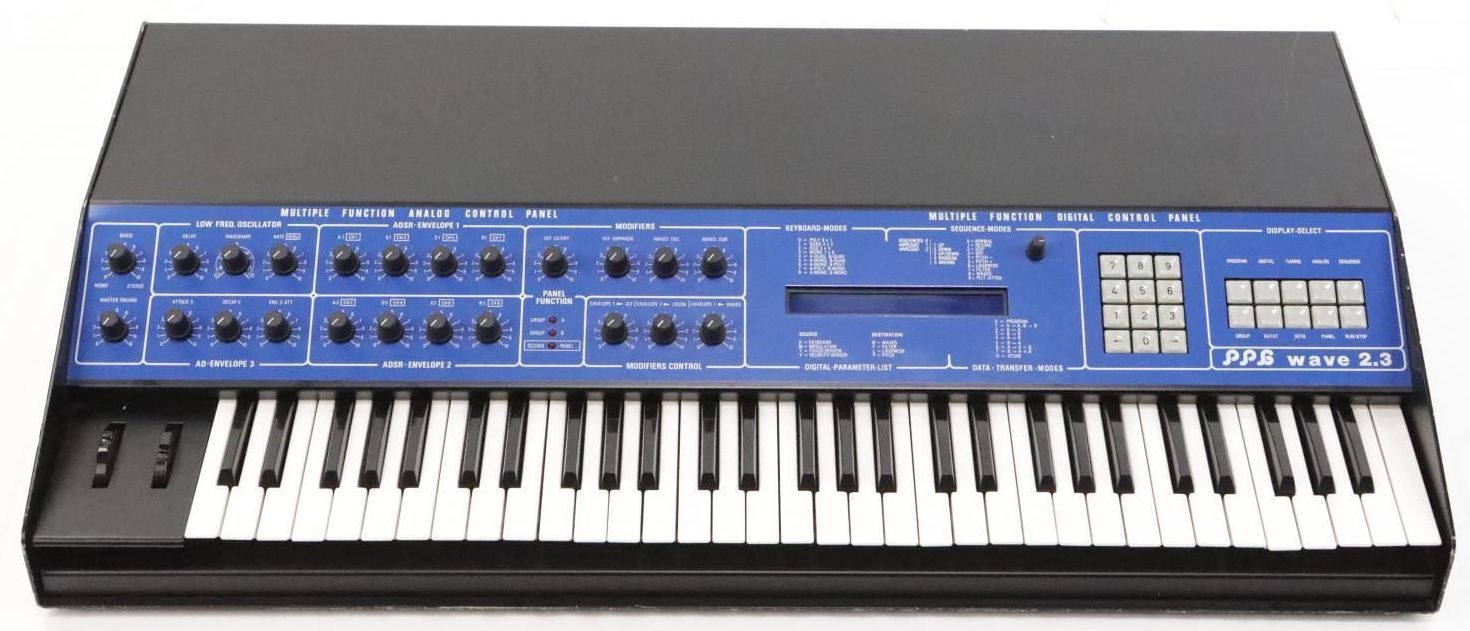 Designed by Wolfgang Palm, the groundbreaking PPG Wave 2.3 features 16 digital oscillators (2 per voice), and analog voltage controlled filters. The Wave's distinct sound comes from 32 wavetables with 64 waveforms each. Waveforms can be swept by one of the three envelope generators giving the Wave an animated sound that is simply not possible with standard analog synthesis. The Wave 2.3 also boasted 12-bit resolution, built-in sequencer, 8 individual audio outs, and 8-part multi-timbral capability. Thomas Dolby, The Fixx, Rush, Tears For Fears, Tangerine Dream, Trevor Horn and Ultravox all made use of the Wave's unique sound.
SEQUENTIAL CIRCUITS PROPHET VS™
The Prophet VS was on the market for less than two years but it left a huge impression on the synth world. Released in 1986, the VS came from Sequential's desire to build a synth that could sound like the Prophet 5, DX-7 and PPG Wave. The signature VS sound comes from 4 digital oscillators per voice - each with a choice of 128 sample-based waveforms, passed thru analog filters. You could even add new waveforms to the VS via Sample Dump, however, there is only a small amount of RAM. So what is a Vector Synthesizer (VS)? Vector Synthesis allows you to mix between the 4 oscillators, either with the envelope section or in real-time with the joystick. The VS even has a Random Patch function that allows the synth to generate patches for you. Factory patches include warm, analog-style strings, brass, and pads. The VS can also deliver percussive comps, FM-style digital sounds, heavenly choirs and lively sounds like the legendary FILMUSIC patch.
Roland Super Jupiter MKS-80™
Roland's Super Jupiter is an 8-voice synth with 16 VCOs (2 per voice), 8 VCFs, 8 VCAs and a cartridge slot for efficient data handling. Unlike many of the other analog machines of the day, the MKS-80 responded to dynamics. While many of the famous analog poly synths offered similar sounds and voice architecture, those machines were not roadworthy and often required constant maintenance to keep them in top playing condition. Roland's Super Jupiter was a must-have synth for many session players because it offered analog warmth in a reliable, stable package. Using the optional MPG-80 programmer made patch editing simple and intuitive.
Roland MKS-20™ Digital Piano Module

The MKS-20 is a 2-space rack version of Roland's RD-1000 Digital Piano. Both the MKS-20 and RD-1000 offer responsive and realistic acoustic and electric piano emulations, but the sounds are not sampled. The realism comes from Roland's Structured Adaptive Synthesis (SA) technology. The sampling technology of the time was limited and could not capture the changes in a piano's timbre that occur at different velocities. A sample is basically a snapshot of a sound while SA synthesis can emulate the changes in a sound's timbre. SA Synthesis allowed Roland to carefully analyze the characteristics of the source pianos and then store the re-synthesized sounds into memory.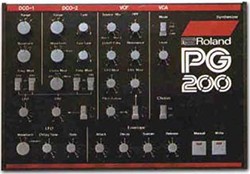 A 6-voice synthesizer with 2 DCOs per voice and analog filtering. Roland's MKS-30 is basically a JX-3P in a two-space rack with velocity sensitivity and a cartridge slot on the front for storage (the JX-3P didn't have a cartridge slot or velocity sensing). The PG-200 Programmer could be used with both machines for easy, intuitive patch editing. You could edit without the PG-200 but I wouldn't recommend it. The display is somewhat cryptic so you'll need to know the correct symbol for each parameter.