Recording In The Crows' Nest By Tony DiLorenzo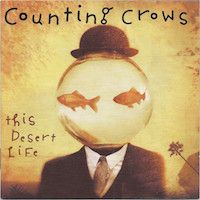 Dennis Herring talks about working with the Counting Crows and recording "This Desert Life"
When you're first learning to record you probably do what most of us did: read about recording, talk to engineers, and maybe take a course or two. You learn the "correct" way of placing mics, dealing with leakage, and recording vocals - thinking to yourself "I have to master all this if I'm ever going to have a career as a producer/engineer." Not necessarily. Dennis Herring has worked with artists like Concrete Blonde, Timbuk 3, Jars Of Clay and Counting Crows, and his approach is not what you'd call "conventional." Sure he knows the proper way to record, but if the track works with just one mic on the drums, then it's a keeper. A singer laying down while recording? Sure. If it sounds good keep it. Read on and you'll see what I mean. (TD) "This Desert Life" was recorded in a house and not your average commercial studio. How does a band or a producer decide to record in a house as opposed to a commercial studio?
That's actually how Counting Crows have done all their records and I'm certainly no stranger to recording like that. I've never liked recording in formal recording studios so I've always tried to do it as little as possible. I was certainly more than into doing it that way.
(TD) Does the band own this house or do they rent? Are they always recording in the same house?
No. It's been a different house every time.
(TD) So they just grab a house and throw a bunch of gear in it?
The rule seems to be that the house has to be given back in the same condition that it was in when it was leased. So anything could happen as long as it was all fixed when it was over. Counting Crows own a lot of recording gear to begin with and since this is the third record they've done this way, they've gotten really good at converting houses into temporary recording studios. Putting up plexi glass over windows, etc.. just doing the minimum so the neighbors don't call the cops.
(TD They would even call the cops on the Crows?
We'll it's still noise. One man's music is another man's noise and vice- versa.
(TD) What board did you use for tracking?
Mostly a little monitor console. Toward the end of tracking, right before we started mixing I bought an old Neve 8038. We moved that up to the house and finished tracking on it. The song "Color Blind" was recorded and mixed completely on the Neve 8038. Counting Crows have a lot of old cool gear like Neve 1073 modules and a couple of Neve side cars, so we recorded through that gear even before I bought the Neve console.
(TD) Was the house in California?
The house is in the Hollywood hills and is kind of a cross between a "Boogie Nights" and "Brady Bunch" kind of house. Sixties era architecture, pools, view of Hollywood. It was great.
(TD) Was that conducive to creating?
Oh yeah it absolutely was. There is just nothing like being in that kind of environment. It helps them not hear the tick of the clock which – for the most part – is a good thing for the Crows. When you're recording like this you don't think about the artist who was in there the day before or who might be recording in the rooms around you. It's nice when you're not comparing what you're doing to other people. That's what I like about recording this way. When I first started recording and producing I set up my studio in my basement. This was before the age of the home studio. I did that because I always hated going to real recording studios. I had been a studio musician for about five years so I was certainly used to being in real recording studios. They have their place, but at the same time I felt as a producer that it was hard to get at what I was trying to get at. Since I've set up my own studio it's been easier.
(TD) Sure, because when you record at a commercial studio you block out time from let's say 8am to 6pm and you're forced to be creative on that time table. What if you had a bad day the day before? You're not going to be creative on that time table. If you have the rig in your house and an idea hits you then you can run with it.
Absolutely. I remember having this experience at Ocean Way, a great studio in Los Angeles. We just did this drum thing that we were so proud of and we were all in the control room kind of high five-ing each other. We were so proud of this thing we had just done and right at that moment I saw Sting down the hall past our open control room door. And I thought "Sting would think this is a joke." Recording in your own place lets you wake up everyday feeling that what your doing is special and you can stay in that frame of mind. This has a way of reinforcing what your doing and helps records turn out to be their own kind of thing.
(TD) So do you think that any future projects you work on will be recorded in a house rather than in a commercial studio?
I've had a studio for more than ten years but it's not like a real recording studio. It's a completely homey, funky place. Sure it's got a great big Neve console and an Otari Radar – but it's more like your living room than a studio.
(TD) Did you cut the tracks to analog 2-inch tape or did you use digital like ADATs or the DA88s?
I record exclusively to an Otari Radar. I have my own Radar II and that's what we used for the Crows record. I like it.
(TD) What vocal mics were used?
My engineer has a pair of (Neumann) '47's and we mostly used one of those on Adam's voice (Adam Duritz is the lead singer for Counting Crows – Ed.). There was one song where Adam did his scratch vocal while laying on his back and we liked the sound we got with the Shure SM57. The vocal got a little cloudy because of him laying on his back and the '57 helped with this tone.
(TD) Which track was this?
"High Life"
(TD) So the take with Adam laying on his back made it to the record?
We did some takes and comped between them – we even used some of the scratch vocal, so any of the other vocal takes that were used were done this way.
(TD) Tell me about the signal path for the vocals. Did you use any tube mic preamps or tube compression?
There's a guy named Frank Lacy who makes tube gear for me and (producer) Terry Maning. He calls his line of gear "Lucas." When we recorded the organ we tried out these solid state pre-amps he made, and we liked them. They beat everything else so we decided to try them on the vocals. They had this funny quality: they made things sort of move toward you a few inches in the speakers. This worked well for Adam's voice. I still have them but it doesn't mean that I just use those on vocals. There's no telling what I'll use on any given day. For Adam's voice we got into that chain: the '47s through the Lucas pre-amps. We liked it so we did it a lot.
(TD) Did you set up some sort of vocal isolation booth?
No (laughs) I don't know anything about that kind of stuff. I just don't record like that at all. What I try to do is get a singer to sing in the room with me. I like to sit at the console with the singer standing behind the console singing into a mic, and listening to the monitors just like I am.
(TD) Why do you like to record that way?
I like the communication. Since it is an environment where you're going to be interacting with the singer, it's nice to get comfortable. Then I'll run everyone else off so it's just me and the singer (unless they want to do it differently). I also like sitting forward with the singer behind me, so you're not staring at them. I've always hated that about studios where you're looking through the glass, staring at the singer.
(TD) It kind of puts them on the spot.
Certainly singers like to entertain and there are some people that like having people look at them when they sing, but rarely is it the producer.
(TD) Because you're pointing out mistakes and tuning problems.
Exactly. You've been put in this role of judge and the last guy you want sitting there staring at you is the judge. I love having the singer in the same room and being able to stop the tape, turn around and say "How's it feeling to you to sing this right now?" or "What if we did this another way?" This way it feels like you're doing something together.
(TD) It seems a little more personalized.
Yeah, and in our case we had a really small control room so Adam was out in the recording room (the living room with the piano) a lot.
(TD) Some of the guitar parts on "Four Days" have such a sixties feel. Kind of reminiscent of "The Byrds". How did you get those sounds?
It sounds like you're talking about the 12-string part. Dave Bryson had come up with that part and it was the last thing we did to that song. I think he formulated it as a 12-string part. Then I used this old Korg delay and I kind of performed that song along with him. You know you can "ride" the delay as he's performing the part and we recorded all that at the same time. That's how we got those big sweeping sounds – it's me and him working together.
(TD) How did you isolate the drums? Recording live drums in a house, there had to be some problems there.
I've outgrown the rule that leakage is bad. The engineer I work with is a man named Rich Hasal and he's extremely sympathetic to my cause. It was very easy to get Rich into feeling that leakage is not a bad thing.
(TD) On the song "All My Friends" you got such a tight, natural drum sound. How did you record the drums for this song?
For the basic track we cut just drums and piano. I had been trying to get them to cut that song all together, but at some point Adam said the feel wasn't happening so he suggested we just cut piano and drums. That got us into this Memphis drum sound.
(TD What mics did you use for the drums and what about placement?
We were into this Glyn Johns setup for a while. We'd try to use a bare minimum of mics on the drums. A common mic setup for Rich and I would be a '47 on the kick, a '47 off the second rack tom and another '47 behind the drummer slightly to his left. Then maybe a hi-hat mic or a snare mic, but maybe not. We did a lot of the drums on this record with one or two mics. The song "Mrs. Potter's Lullaby" was done with one mic. The track was recorded live. Every element including the vocals all done at the same time. If the bass sounds too woomy then you just turn down the bass amp a little bit so that it's not going into the drums so much. If you want the bass to have a nice woomy quality in the track, then get the amp closer to the drums so you'll get more bleed into the drum mics. You'll then get some sort of stereo element to the drums and the bass gets spread out for the final mix.
(TD It's funny but all through the eighties as technology became better and cheaper, leakage was outlawed.
I know.
(TD) Every one was thinking "lets not use live drums, we'll use the drum machine because we can get a more controlled sound" and now you've gone back to everyone playing live in the same room like people recorded in the 'Fifties.
It's funny but I grew up in that 'Eighties school. The first records I produced were from Timbuk Three. I was fascinated with them because it was just two people and a boom box. Everything was drum machine and I did all the engineering because, hey – I can record drum machine. The fact is that all my favorite records have leakage. I never want my real drums to sound like a drum machine. I think loops are great. I remember when all the sampled loop drum parts started to kick in around the mid-Eighties with groups like Run DMC and Public Enemy. What a great way to hear drums!
(TD) The loop idea was great because you were still getting the live feel of someone's performance but you were placing it where you needed it.
Exactly. We were talking about drum mics earlier and I remembered the way we recorded "Four Days." That song went down in a funny way. Adam had just written the song and he was really excited to record it. It must have been about 2:30 in the morning and basically the band on that song was who ever was there playing poker. Ben (Mize, drummer) is on it, but he was drunk. I told Rich to just put up one mic. Ben was trying to get his bearings on the drum throne and I told him we were going to cut this song. Ben said "I haven't heard it." I said "yeah, yeah you're gonna play great. Here's the thing: you get one mic. Where do you want us to aim it?" And I think he said "kick drum." So "Four Days" was a one-mic drum sound.
Jack Joseph Puig mixed that song for the album but I was not in attendance for the mix. He called me and said "Hey Dennis, I'm mixing this song "Four Days", where are the real drum tracks?" So I said "What do you mean." He said "I have this tape and it has one drum mic but I really want to get a bigger sound, so where is the tape with all the individual drums?" So I told him "That's it." So Puig said "So basically what you're saying is anybody who gets this tape has to mix your drum sound and if they don't like it, then f*ck 'em." I said "Yeah, that's pretty much it. If you don't like the drum sounds you get with that mic then f*ck you. That's what I'm saying." There's nothing better than getting what you're really trying to do on tape right off the bat.
(TD) "Hanginaround" has an interesting overall feel to it. How was that recorded?
(Laughs) Yeah that one's pretty neat. David Lowery (co-producer) had been working with the band on the demos and the song started as a demo that the band recorded. Adam had his original demo and David was trying to record a new demo with the band. In the end, the only way he could get anything down was to take Adam's demo, put it on tape, and then have the band play to that – sort of like a click track. Just because Adam's thing had such a feel. The whole building block of the song is something that's incredibly out of time. As opposed to a click track that's in time, that song has a guide track that was fantastically out of time and it's still in there in the final mix.
(TD) And everybody was just trying to play to that?
Yeah. There was a certain amount of out-of-time stuff we wanted to keep, but the problem was that if you tried to use the drums really loud (like a normal mix) it became so flammy and sloppy that it didn't feel good at all. It just wouldn't work. David and I came up with a new way of looking at the song: if the bass was really kickin' ass and the bass player was just so 'James Jamerson' about his job that he was grooving hard, you wouldn't even notice the drummer. Do you know what I mean?
(TD) You were relying on the bass for the "center?"
And hand claps. Adam wanted these big, group hand claps. I sat and spent a whole day sliding those hand claps around after everybody did them to make them super in-time with the bass.
(TD) So the drums could be as loose as you wanted, as long as you had the bass and claps anchoring the beat.
Yeah, we worked a long time on that bass track to make the part and the performance be so rhythmic and driving. That's what gave the song it's groove. We then made the hand claps and vocal work with it. This meant that when you mixed it you always had to be thinking in non-traditional terms. When I mixed the song, that's the way I did it. Jim Scott did a mix and I sat there and reminded him that we had to focus on the bass, the hand claps and the singer. If those three elements feel good then we'll have this great record.
(TD) The strings add such a sweet touch to "All My Friends" Did you record the strings in the same house or did you go to a separate studio to record the strings?
I've recorded strings before but I was hoping I could get a sound that was more unique for this record. Rich had said "let's just record the strings up here in the house. There's a spot I think would work really great." So that's what we did. We had string players come up to the house and we made an event out of it. We got them up to the house early and had a chef make dinner for everyone. It felt like they just came to someone's house, you know just hanging out.
I was getting a great string sound but everybody kept telling me "the strings don't sound good. We gotta move them to another part of the house." I said "let's do it if that's what you're thinking – but make a note of where they are now because I like the way the strings sound." So we took an hour, moved all the chairs and miked all the strings, but to me it just sounded generic. We wound up moving them back to the first spot and they sounded great. You can do stuff like this when the budget is not an issue.
(TD) The piano in a song like "Mrs. Potter's Lullaby" sits in the mix a little differently than in a song like "Colorblind" or "Amy Hit The Atmosphere." Do you have any tricks you like to use when you mic a piano?
No, not really. The piano part in "Mrs. Potter's Lullaby" is extremely constant. It's a long song, so if you're thinking in terms of a mix it made sense to make the piano quiet. I could have brought up the piano but by the second verse, what kind of effect would it be having on you? The song has lots of verses and it's got a long way to go. It's a story song. It just made sense to bring the piano down in the mix.
Like I said earlier, that song was recorded live. I certainly messed around with it after the fact, looking for the best vocal takes and things like that. Since it all had been tracked live, there was tons of piano leakage in the vocal mic.
(TD) That must have been a hassle.
It wasn't really. If we had tried to use the piano really loud in the mix it could have been a hassle. In between lines where it would have been hard to gate some leakage you might have heard two different piano things going on. So having the piano sitting in the mix the way we have it is the right way. As you're tracking a song like that you say "we're getting tons of piano in the vocal mic but this is the kind of song where that's gonna turn out fine." If that had been "All My Friends" it would have been a different story. With that kind of song, as you're tracking it you're picturing the mix, knowing the piano is going to be a foundation and needs to be up in the mix because of the way it works with the vocal. If we had a ton of leakage in that song it would have been a drag.
(TD) Do you have a favorite mic for piano?
We used Coles ribbon mics. They're kind of dark sounding. In theory you'd want a bright mic on a piano but I like them.
(TD) I know you were cutting to the Radar, did you do any hard disk editing for the final mixes?
Yes, but we mixed to analog 1/2-inch tape.
(TD) So that warmed up the Radar?
Oh yeah – you can't beat mixing to 1/2-inch tape.
Until Next Time... Stay Well.
© Tony DiLorenzo