XLN Audio Addictive Drums Virtual Drum Plug-in (Mac/Win) By Tony DiLorenzo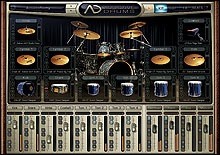 Every drum programmer has a personal approach to making tracks groove, but wouldn't it be nice to get the right feel and sound without much effort? Addictive Drums ($249 [MSRP]) is an AU-, RTAS-, and VST-compatible plug-in with a huge library of more than 3,000 MIDI beats and fills. It comes with nearly 3 GB of high-quality drum and cymbal samples from DW, Latin Percussion, Paiste, Pearl, Sabian, Sonor, and Tama. All the samples were recorded using a multichannel microphone setup for realism, and then optimized to minimize loading times.
BREAK IT DOWN
Addictive Drums' user interface is divided into three sections. The top section furnishes buttons and displays for selecting, loading, and playing sounds and for getting help. Clicking on the Preset display opens a pop-up menu for selecting drum kits, and clicking on the Play button starts and stops the current MIDI file. You can choose from 115 kits arranged in categories such as Clean, Distortion, Electronica, Rock, and Xperimental.
At the bottom of the window, the Mixer section has eight mono channels for individual instruments, two stereo channels for overhead and room mics, a stereo mixdown bus, and a stereo master channel. All except the master channel have a level fader, a pan slider, and buttons for mute, solo, effects, and the like. Four buttons on the upper right — labeled Kit, Edit, FX, and Beats — determine what page appears in between the top section and the mixer.
The Kit page is divided into 12 Kitpiece Slots, much like the pads on a drum machine. Each slot displays the name and image of its assigned Kitpiece and has buttons to select from a list of instrument samples, adjust its level, and so on. You can click on any image to quickly audition samples, and all images are Velocity sensitive, meaning their Velocity changes depending on where you click.
The Edit page allows you to drill down into the sample engine and customize each sound. For most sounds, you can graphically adjust envelopes for volume and pitch, specify the bandwidth of a combination lowpass/highpass filter, and control the amount and panning of the signal being routed to the overhead and room mics. You can adjust the balance of the beater and front mics on the kick and the top and bottom mics on the snare. A Buzz parameter even lets you control how much the snare vibrates in response to playing the kick or toms. If you enable a Kitpiece's insert effects, you can click-and-drag breakpoints on a 3-band parametric EQ and control compression, distortion, and saturation parameters.
The FX page offers access to two simultaneous reverbs with Ambience, Hall, Plate, and Room types. You can tailor your reverbs with controls for PreDelay, Reverb Time, Damping, 2-band EQ, Volume, and Pan, as well as Pre or Post routing.
On the Beats page, you can browse and audition beats and fills and sync them to your host's tempo. Choose from a sizable collection of MIDI files at different tempos, ranging in length from 1 to 16 bars. Search by keyword, category, or time signature, and click-and-drag beats and fills to a list of Favourites. Twelve style categories include jazz, funk, blues, and six varieties of rock.
REAL-DEAL DRUMS
On my MacBook Pro, exporting drum grooves to Apple Logic Pro 7 couldn't have been easier — I simply dragged-and-dropped the beat or fill to a MIDI track and then easily manipulated the data in Logic. Once I assembled my performance, I could audition and assign kits, and even reassign individual sounds within a kit and play them with a MIDI controller (Addictive Drums Demo 1). For a jungle vibe, I changed the 90s Rock kit to a Machine kit and cranked the tempo to 150 bpm (Addictive Drums Demo 2).
The included MIDI files never sounded sterile or programmed. Flams, grace notes, and ghost notes added to their human feel. XLN Audio's samples are ready to print. The snares are lifelike, with plenty of pop, and the kicks are beefy and punchy. The toms have well-defined attack and tone, and cymbals and hats cut through the mix with lots of sizzle.
Anyone who has spent much time trying to get the perfect drum sound will appreciate Addictive Drums' flexibility and control. Intuitive design, attention to detail, and a generous library of convincing performances combine to make it a wonderful tool for the computer-oriented musician. Once you try it, you'll be hooked.
Value (1 through 5): 5
XLN Audio
www.xlnaudio.com Until Next Time... Stay Well.
©Tony DiLorenzo